What Are the Most Common Voice Disorders?
Our voices are produced when air from the lungs passes through the vocal cords – two folds of tissue within the larynx. The vocal cords create sound when they come together and vibrate in response to air passing through. They must vibrate symmetrically and regularly in order for the quality of your voice to sound natural. Any condition that causes dysfunction of the vocal cords is known as a voice disorder.
Below are two common voice disorders.
Vocal Cord Nodules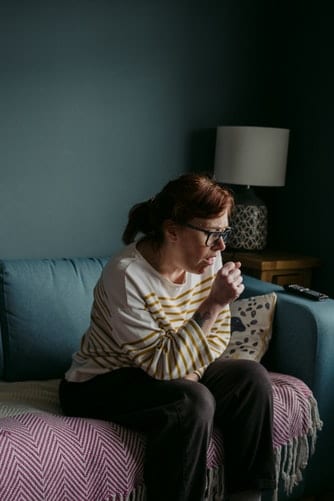 Vocal cord nodules can be thought of as calluses on the vocal cords caused by some sort of trauma, commonly voice abuse. These nodules can be prevented by practicing good vocal hygiene, which means avoiding excessive voice use, especially during a respiratory infection, and treating chronic coughing or throat clearing.
There are two types of vocal cord nodules: soft (early) nodules and hard (late) nodules. To illustrate the difference between these types of nodules, picture the calluses that form on the hands. Soft nodules are like blisters on someone who has just done a weekend of manual labor. Hard nodules are like the calluses that form on the hands of manual laborers.
Most commonly, voice rest/reduction is recommended as a first line of defense against vocal cord nodules. Some benefit from speech-language therapy in order to address issues like breathy voice or pitch problems. In rarer cases, surgery may be recommended to remove advanced nodules.
Vocal Cord Polyps
Vocal cord polyps are also caused by voice trauma and poor vocal hygiene. They tend to be fleshier than nodules, and they don't necessarily form bilaterally. Single polyps may form due to an isolated instance of trauma, like overuse at a concert. It is possible to develop severe, chronic polyps, which is known as Reinke's edema, usually due to tobacco smoke and/or excessive alcohol consumption.
The first step toward treatment is to address the underlying issue. Single polyps may be treated with speech-language therapy, though surgical excision may be necessary for some cases.
For more information about voice disorders or to schedule an appointment with an expert, call DeFatta ENT & Facial Plastic Surgery today.