DefenAge
DefenAge has literally redefined anti-aging skincare and it's no wonder that the system and its individual products have been awarded accolades from top beauty experts in the industry! DefenAge is the first and only skincare line that utilizes Age-Repair Defensins, a proprietary blend of regenerative peptides and supporting molecules to reverse and prevent signs of aging. The perfect combination of science and technology, Age-Repair Defensins stimulate new skin growth—regardless of age or skin condition. The result? Visibly younger and healthier skin in just six weeks!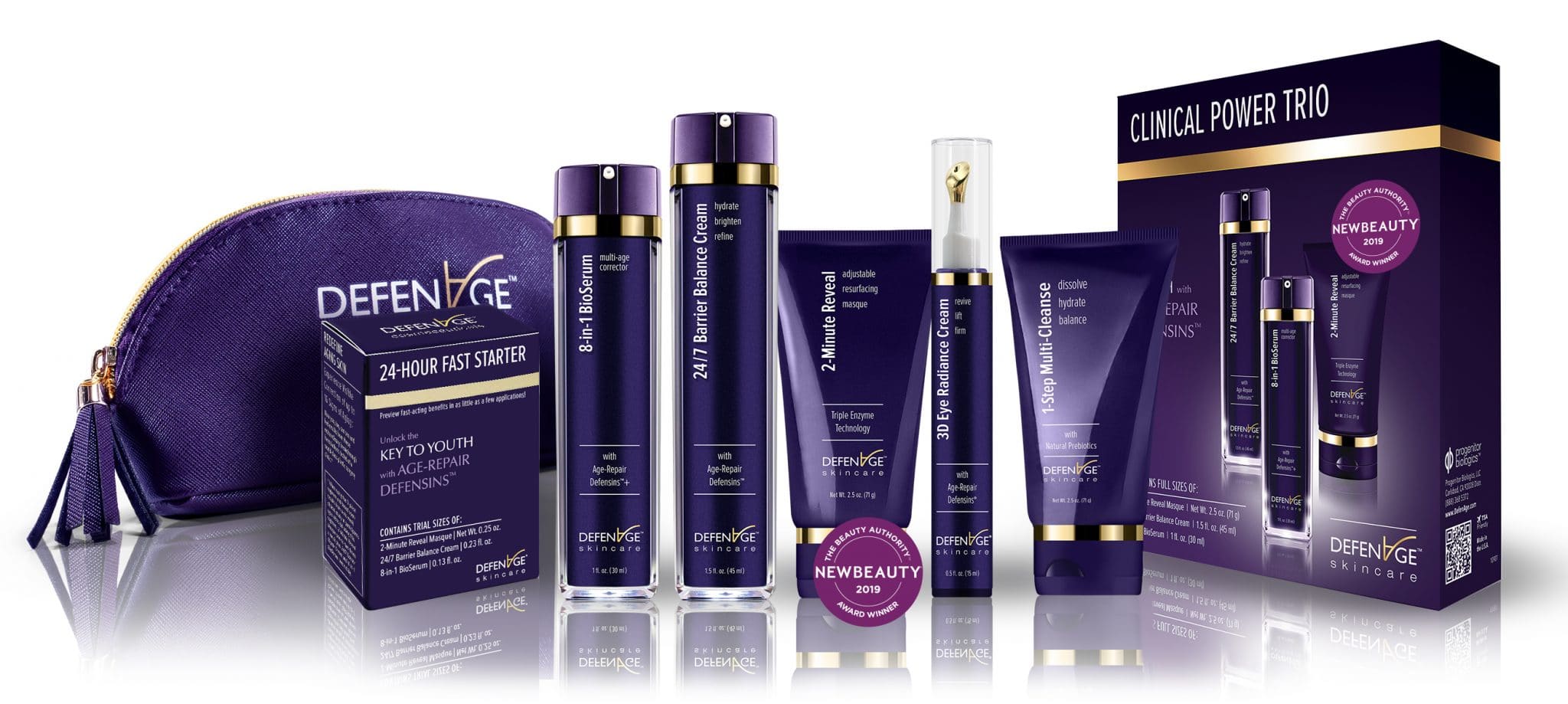 Individual Products
1-Step Multi-Cleanse
This unique soap-free cleanser dissolves impurities within the pores and makeup in just seconds. How so? The 1-Step Multi-Cleanse is designed using ingredients that stimulate the skin's natural ability to enhance defensins-response. Promoting natural prebiotics, it is great for balancing the skin's delicate makeup and preparing the skin for DefenAge products that follow.
3D Eye Radiance Cream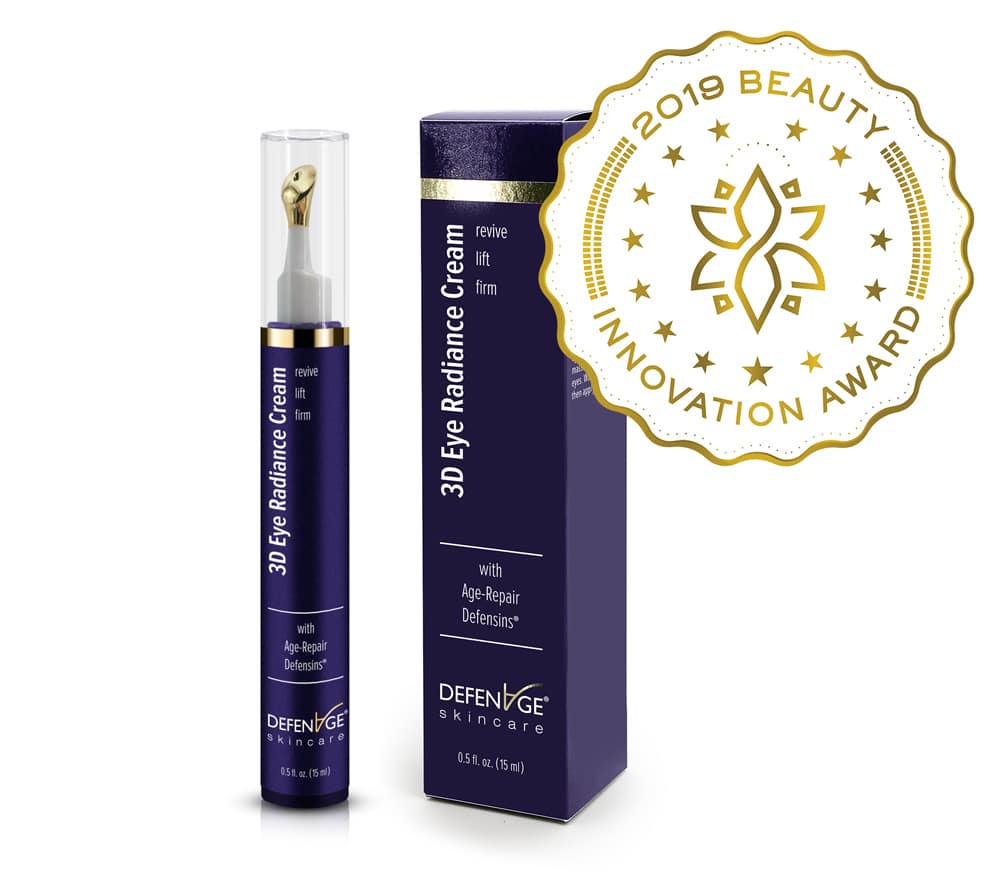 This multi-tasking eye cream is intended to target all the main visible signs of aging. 3D Eye Radiance Cream is designed to lift, firm and smooth the upper eyelids providing effective, visible results. This cream is made fragrance free and is safe for those who wear contact lenses. This clinical powerhouse has won two of the beauty industry's top awards in 2019 and 2020, being named Beauty Innovation Award's "Eye Product of the Year" and New Beauty's "Best Eye Cream for Dark Circles."
24/7 Barrier Balance Cream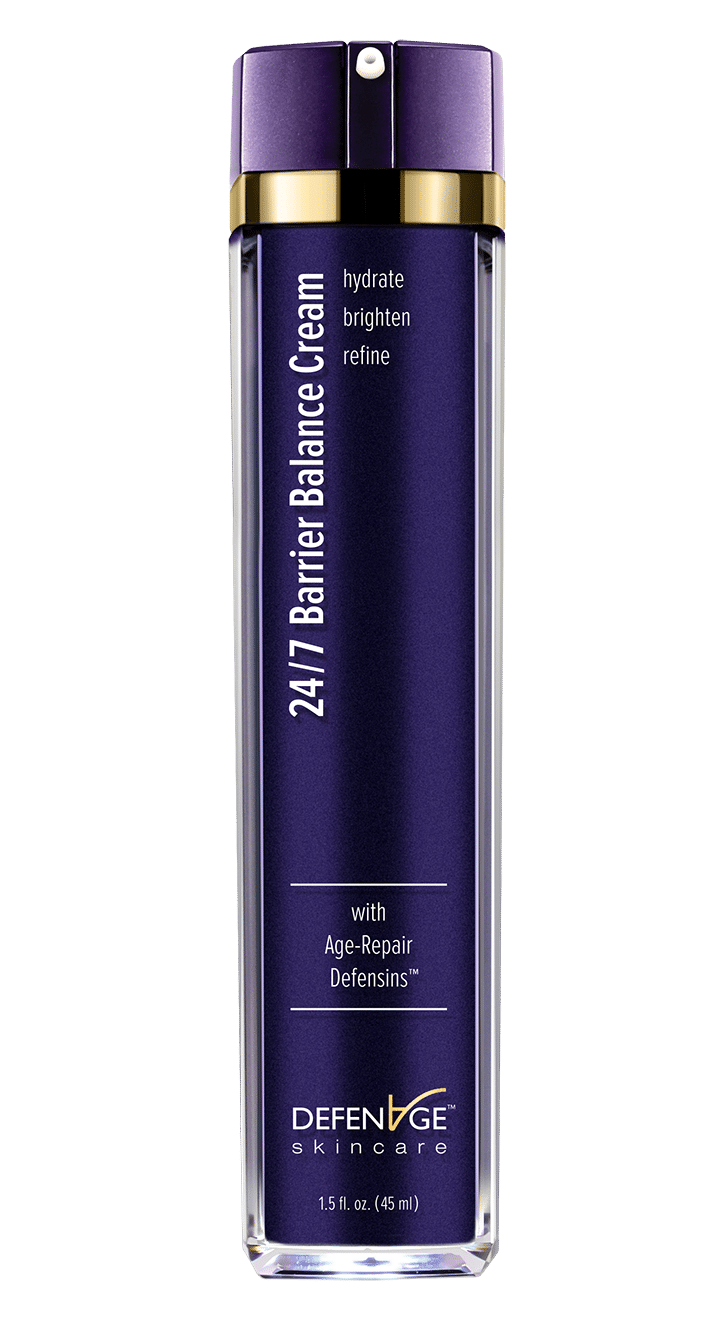 Using DefenAge's Age-Repair Defensin peptide technology, this lightweight cream hydrates, brightens, refines and energizes skin. Its effectiveness provides visible results against signs of aging. Barrier Balance Cream is available in two varieties, with and without fragrance.
8-in-1 BioSerum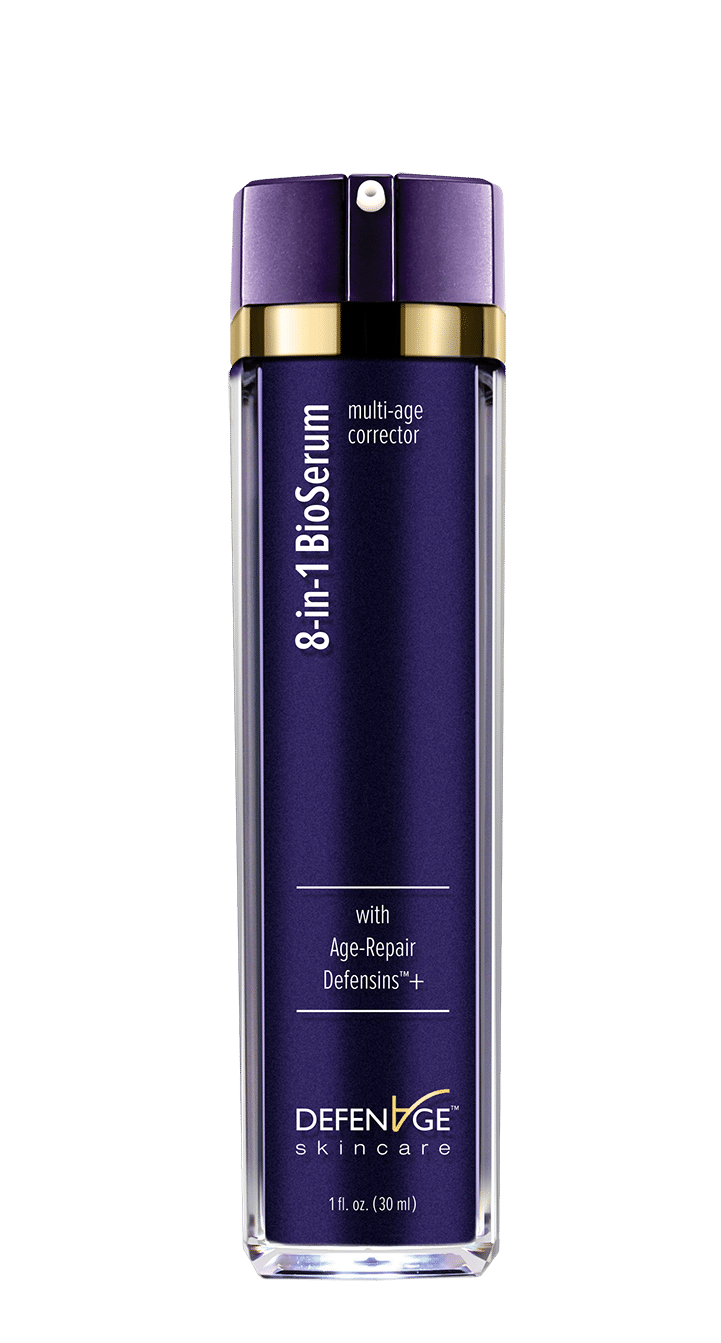 Combining into a single potent formula, this serum provides the skin-improving benefits of eight separate skincare treatments! It is full of Defensins, a molecule that activates the repair process by reprogramming skin cells, promoting new skin growth. This serum is designed to target each individual's skincare needs. This is applied after the 24/7 Barrier Balance Cream to heighten benefit.
2-Minute Reveal Masque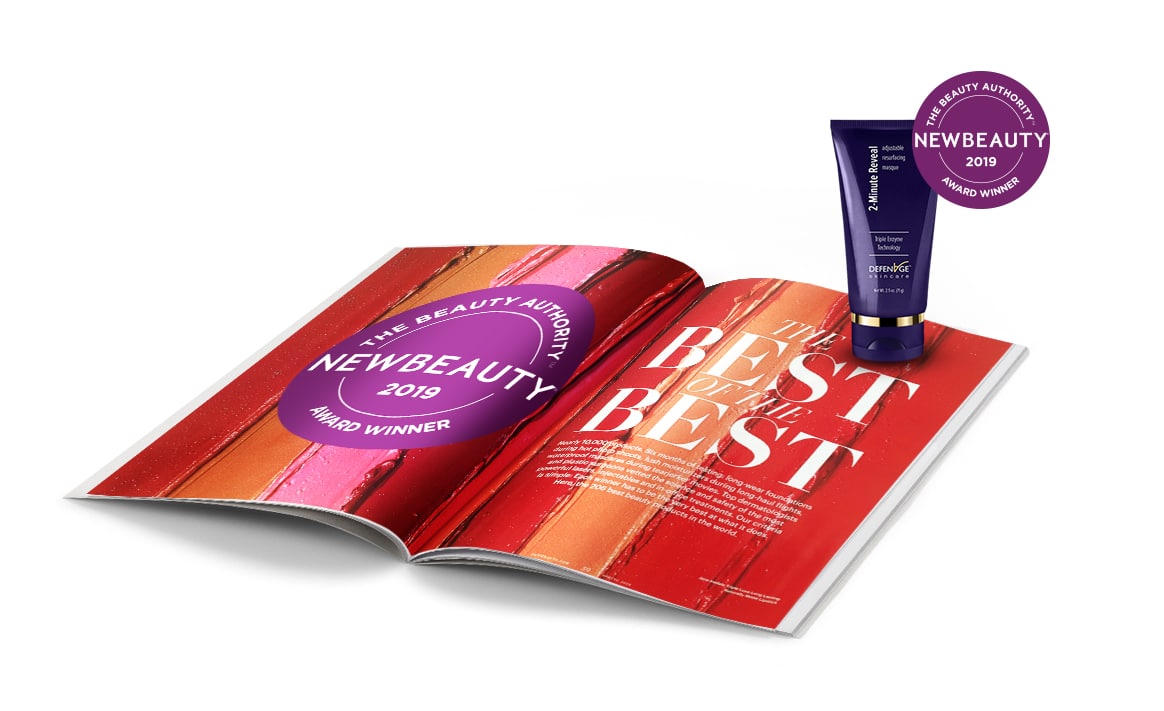 This masque provides gentle yet effective exfoliation by using a combination of three enzymes and sugar crystals to reveal smoother, brighter skin in minutes. The self-warming formula is key for maximizing the Defensins' action and increases the penetration of other DefenAge products. To eliminate the build-up of dead, dull cells, we recommend using this on a weekly basis. Another award winner in this powerfully effective product, being named "Best Brightening Mask" by New Beauty Magazine 2019.
DefenAge Kits
Clinical Power Trio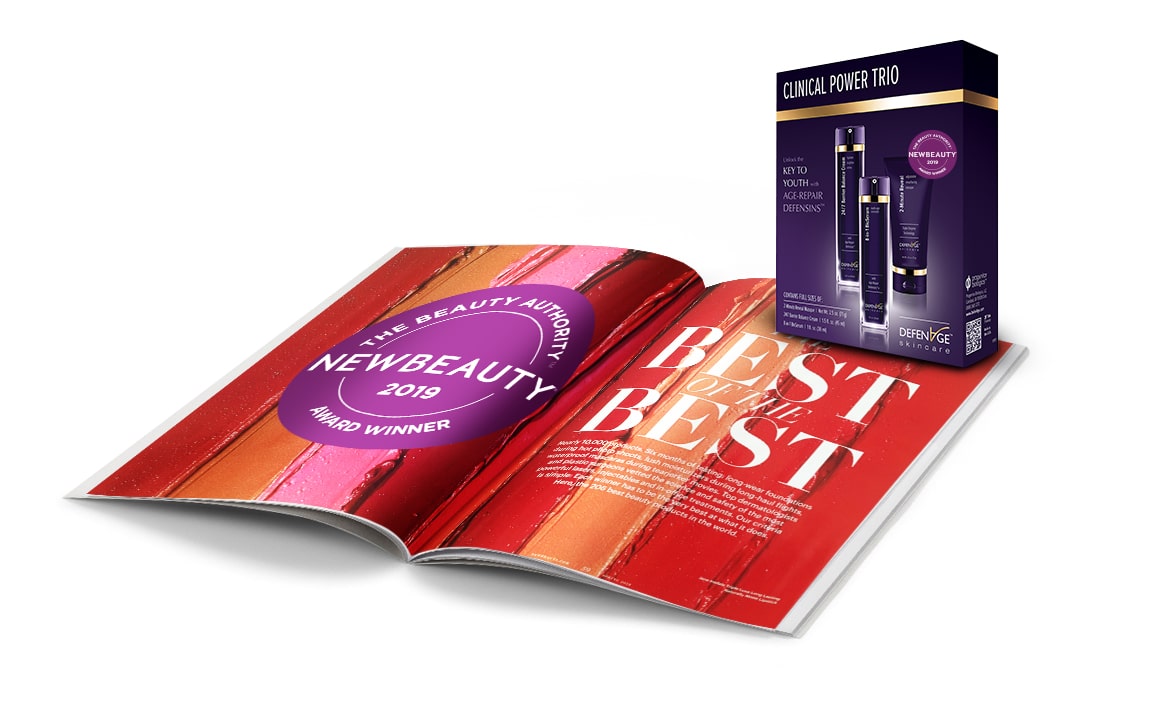 This trio contains the 2-Minute Reveal Masque, 24/7 Barrier Balance Cream and 8-in-1 BioSerum. It is the foundation of healthy, vibrant, younger looking skin! Available in fragrance and no-fragrance options. The Clinical Power Trio has repeatedly been awarded "Non-Surgical Innovator of the Year", by Dermatology Times as well as The Aesthetic Channel in 2018 and again in 2019.
Men's Kit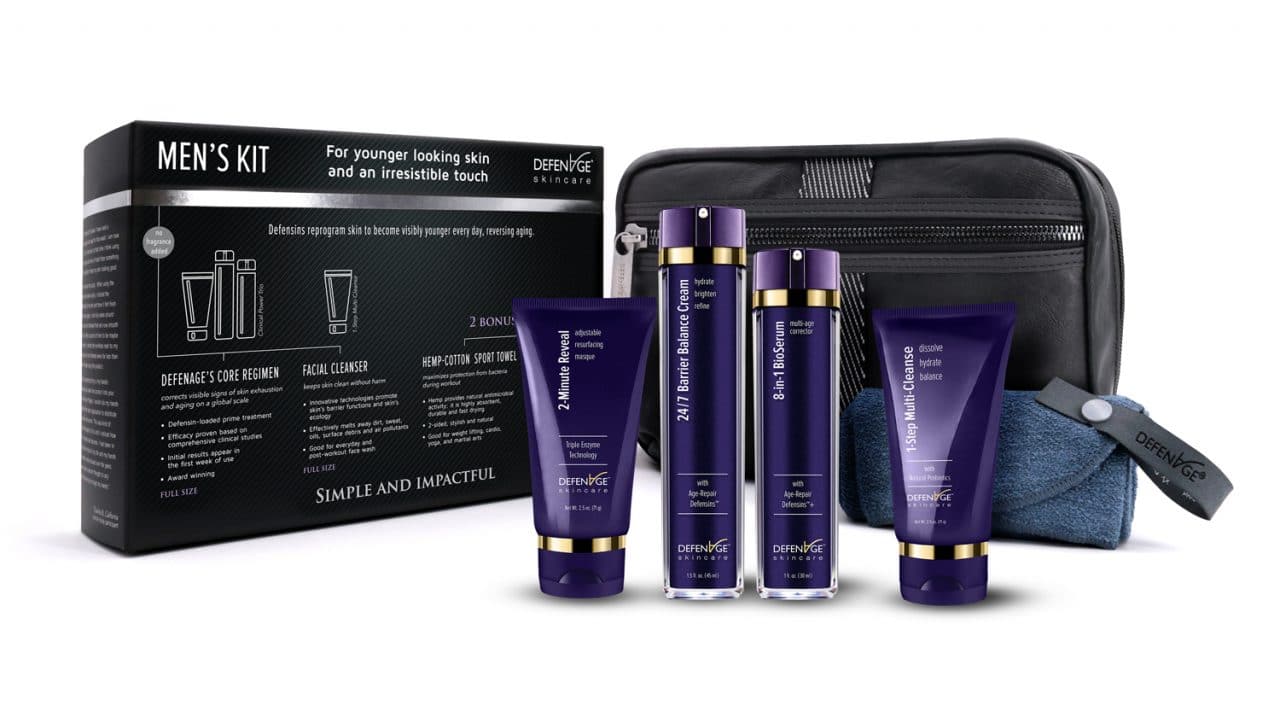 Created by men for men, this kit comes housed in a leather toiletry bag and contains the Clinical Power Trio plus multi-cleanse face wash and sport towel. Look younger and have irresistibly smooth skin!
Interested in learning more? Call us at 715-828-2368 and we would be happy to setup a cosmetic consult with our Board Certified Facial Plastic Surgeon.