DeFatta Skin Care
DeFatta Facial Plastics is very proud to introduce our exclusive skin care line that has taken us almost three years to develop while working with some amazing chemists and formulators! It was my goal to offer skin care products that use the purest form available so that they can truly make a difference for your skin.
We have carefully constructed our line to address many common problems: acne, anti-aging, dark skin spots, and even rosacea redness busters! We have also created cleansers, moisturizers and sunscreens to nurture even the most sensitive skin. Please come and let one of our skin care experts custom-design a revolutionary skin care regimen that will address each and every one of your specific skin concerns.
Robert J. DeFatta, MD, PhD, FACS
Every DeFatta Skin Care product has passed rigorous FDA testing to assure that it will deliver the results you desire, safely. Unlike over the counter products, the DeFatta Skin Care line is completely gluten, oil, and paraben-free. These chemicals are commonly used as fillers to expand the volume of over the counter products and can dramatically decrease their effectiveness. Our products all contain hypoallergenic fragrances and will not clog your pores, and rest assured, none of these products were ever tested on animals.
Sun Protection
Sheer or tinted, broad spectrum UVA/UVB, SPF 50+ sunscreen utilizes innovative and proprietary formulation technologies to deliver ultra-light, quick absorbing, non-whitening protection.
Sheer Armor SPF 50+ Sunscreens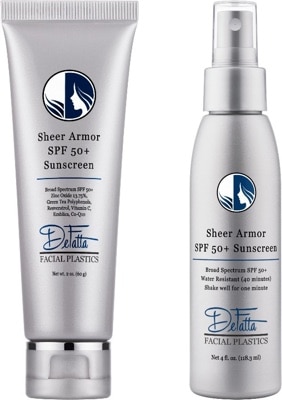 These water-resistant sunscreens (40 minutes) are gentle on sensitive and acne-prone skin, and provide lasting protection against UVA and UVB rays. Available in spray and cream formulations.
UltraMATTE Tinted Armor SPF 50+ Sunscreen

This water-resistant cream also provides full SPF 50+ UVA/UVB protection with a skin perfecting tint that reduces the signs of aging and evens skin tone. Worn alone or under foundation, this multi-tasking formula provides all day oil control, antioxidant benefits and gentle hydration for even the most sensitive skin.
Cleansing
Our lush, soap-free cleanser features 10% glycolic acid to gently exfoliate, cleanse and smooth the skin. Formulated with a powerful blend of antioxidants, including liposomal vitamins A, C and E, green tea and Co-Q10.
Moisture Packed Brightening Cleanser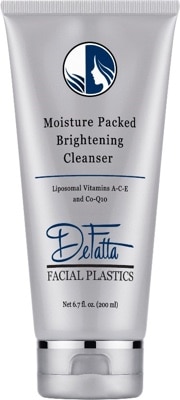 This gentle formula contains a rich blend of antioxidants to assist in minimizing free-radical-induced skin damage while aiding in the restoration of healthy-looking skin.
Moisturizers
These pure daily essentials nourish to help repair the skin barrier and improve elasticity and texture. They complement the skin's nightly renewal & metabolic functions, supporting the skin matrix to target wrinkles.
Ultra-lite Sheer Facial Moisturizer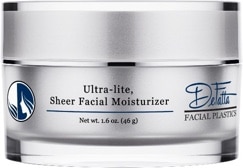 An elegant antioxidant facial moisturizer that is recommended for all skin types.
Your Last Body Moisturizer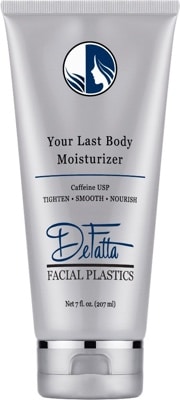 This body lotion features all-trans-retinol in a powerful delivery system for maximum penetration and age defying results. Designed to improve lifting and tightening of the skin, it enhances skin tone and texture while providing intense hydration. Fortified powerful antioxidants soothe and protect skin from free radical damage. Once you get your hands on this, we guarantee you'll make it your last body moisturizer.
Anti-Aging
This powerhouse of retinols, antioxidants, firming creams and serums pack the purest forms of ingredients clinically available, without fillers and fragrances that dilute your over the counter products and clog your skin.
Radiance Rejuvenating 5x Retinol Serum

This refining retinol treatment is enhanced with a revolutionary, time-released delivery system. Along with the antioxidant benefits of 90% green tea polyphenols and caffeine USP help prevent irritation while efficiently delivering results.
Wrinkle & Redness Reducing Serum

This serum uses a combination of 90% green tea polyphenols, caffeine USP and resveratrol, providing unprecedented antioxidant protection. This formulation visibly reduces the signs of redness and inflammation, reduces the appearance of fine lines and surface wrinkles and is moisture enhanced with hyaluronic acid.
No Baggage, Just Hydrating Eyelid Cream

Formulated with All-trans-Retinol and 90% green tea polyphenols, this ultra-moisturizing cream targets fine lines, dark circles and puffiness to achieve smoother, firmer skin around the delicate eye area.
Pure Hydrating & Rejuvenating Serum
This pure, ultra-hydrating serum quenches dehydrated skin for a smooth complexion and all-day moisture retention. Skin appears brighter, firmer and rejuvenated after use.
Vitamin C Brightening Serum

This brightening and hydrating vitamin C serum delivers skin enhancing benefits: Helps brighten the complexion, supports healthy collagen production, prevents dry skin and wrinkles, and has immediate antioxidant benefits…all resulting in overall healthier looking skin by improving skin tone and texture.
Nourish & Brighten While You Sleep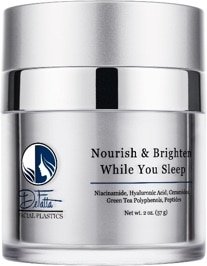 This powerful, restorative night cream provides intense moisturization and age defying benefits, nourishing dry skin back to optimum health.
Seriously Uplifting Neck Cream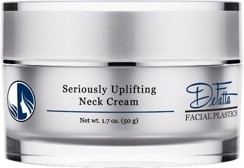 Designed specifically for the neck and décolleté, this hydrating neck cream helps to firm, lift and tighten skin that has lost definition with age. Formulated with a proprietary blend of active ingredients to help support collagen and elastin production, it smooths and evens skin tone, and reduces signs of aging.
Acne Healers
These effective acne treatments are powerful, effective, but will not dry your skin! We have used the purest ingredients with antibacterial properties to eliminate acne causing bacteria and prevent future blemishes from forming.
Acne Cleanser
Drying & Irritating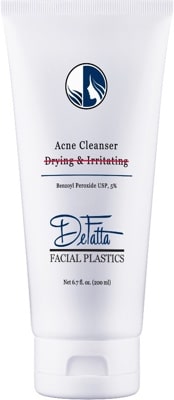 This wash thoroughly cleanses acne-prone skin with a special soap-free cleanser and is fortified with benzoyl peroxide USP, 5% for anti-bacterial protection.
Calm-Smooth-Quench Acne Cleanser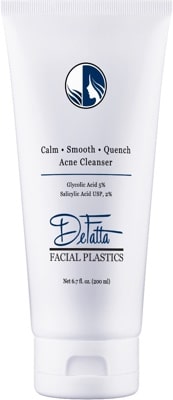 This specially formulated oily skin cleanser delivers ultra-pure glycolic acid and salicylic acid USP, 2% for cleansing of acne prone and oily skin.
Calm-Smooth-Quench Acne Pads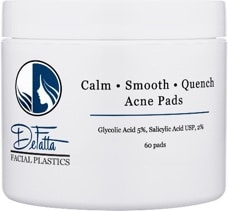 Gluten, Paraben, Oil, Sulfate, Colorant and Fragrance-free so will not clog pores. Formulated with a power trio of Glycolic Acid, Salicylic Acid and Witch Hazel to promote exfoliation, remove surface oils, open plugged follicles and smooth and tones the skin.
Acne Spot Treatment Gel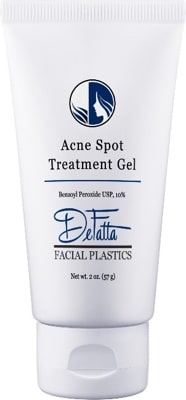 Utilizing the antibacterial properties of benzoyl peroxide USP, 10%, this is gel is the perfect spot treatment for those pesky ones that sneak by.
Lips & Lashes
The lips are commonly forgotten when it comes to anti-aging, but the lips and the eyes are often the first to show some of the earliest signs of aging: loss of volume, color and definition over time. These multi-functional lip & lash treatments protect and restore hydration and youthful volume.
Plumping & Color Enhancing Lip Therapy

This multi-functional lip treatment protects lips while helping to restore hydration. Formulated with stimulating agents that enhance natural color, lips appear plumper and more defined immediately, with lasting benefits.
Go Ahead, Lash Out!

This cosmetic eyelash enhancing serum is clinically developed to help stimulate the growth and fullness of lashes during the lash's natural growth cycle. It is safe and proven to help eyelashes appear longer, fuller and stronger.
We've eliminated the guess work! Our convenient Skin Care Kits are carefully constructed to target your specific skin concern from the same pure and powerful ingredients as all of our DeFatta products:
Age Reversal
Pigment Buster
Rosacea/Redness
Interested in learning more about any of our products? Call DeFatta Facial Plastics at 715-828-2368, and we will be happy to assist you! Or we would be happy to setup a cosmetic consultation with our Board-Certified Facial Plastic Surgeon.