BOTOX & Dysport
BOTOX injection for the treatment of facial wrinkles is the most common cosmetic procedure in the United States. But how does it work? How is it different than facial fillers? Am I a candidate and when should I consider Dysport? Dr. Robert DeFatta, board certified facial plastic surgeon explains.
What is BOTOX?
BOTOX is made from a purified, naturally occurring substance called botulinum toxin A that has been used for more than 20 years to treat a variety of conditions like eyelid spasms, migraines, excessive sweating and other types of muscle spasticity. It has been considered safe and effective for years and was first approved by the U.S. Food and Drug Administration (FDA) for cosmetic use in 2002.
What is Dysport?
While BOTOX and Dysport both use the same substance (botulinum toxin A) and are based on the same mechanism of action, the size of the molecules in the injections are significantly different. Dysport contains smaller molecules of botulinum toxin type A than BOTOX.
This difference allows the treating provider to choose a product that might be more suited to your needs or desired outcomes.
Dysport can spread through your cells more easily
Dysport may begin working slightly faster than BOTOX
BOTOX may last slightly longer than Dysport
How Do BOTOX and Dysport Work for Treating Wrinkles?
These substances, collectively called neuromodulators, are injected into the target muscles of the face using tiny needles to block certain nerve signals that make these muscles contract. When the muscles are relaxed, they are less likely to create those harsh appearing wrinkles on the overlying skin. Just furrow your brow in the mirror and see what happens to the skin between your brows. This is one example of a wrinkled area caused by years of facial movement that can be softened using BOTOX or Dysport.
Neuromodulators works differently than dermal fillers (injectables such as Juvéderm) for facial wrinkles in that it relaxes the muscles that lead to wrinkles, whereas fillers are injected to fill the groove of a wrinkle by restoring the volume in the soft tissue lost during the aging process.
Why Choose a Board-Certified Facial Plastic Surgeon for Your BOTOX or Dysport Treatment?
Because BOTOX is popular around the world, and many different types of providers offer these treatments, it is easy to assume that they are safe and effective in any hands. However, the face and its anatomy are one of the most complex areas of the body. When considering an elective procedure such as cosmetic BOTOX or Dysport, it is prudent to choose a highly qualified and experienced provider for your treatment.
Physicians and surgeons who are cosmetic experts specifically in the areas of the face and neck are called facial plastic surgeons. They are trained in and routinely perform both non-invasive and surgical procedures for facial rejuvenation. They are board certified by the American Board of Facial Plastic and Reconstructive Surgery (ABFPRS). For more than 30 years, the ABFPRS has been actively dedicated to improving the quality of facial plastic procedures available to the public by measuring the qualifications of candidate surgeons against certain rigorous standards.
Dr. Robert J. DeFatta is dual board certified, both by the ABFPRS and the American Board of Otolaryngology-Head and Neck Surgery. His extensive training, credentials and experience reflect his commitment to meeting the highest standards of clinical care for his patients. He has dedicated his entire career to the treatment of disorders and cosmetic concerns of the face, head and neck and his scope of practice includes BOTOX, Dysport and other injectable treatments for a variety of cosmetic concerns from the neck up.
When you choose a facial plastic surgeon, you don't pay more, you just get more.
When Can You Expect to See Results and How Long Does BOTOX Last?
Most patients can expect to notice early results of BOTOX between three to five days following treatment. The degree of muscle relation can continue to evolve for about two weeks and the results last for three to four months. The longer the BOTOX treatments have been routinely performed, the more relaxed the facial wrinkles will appear over time. Results of Dysport are similar, but often with a slightly quicker onset of action.
Am I a Candidate for This Treatment?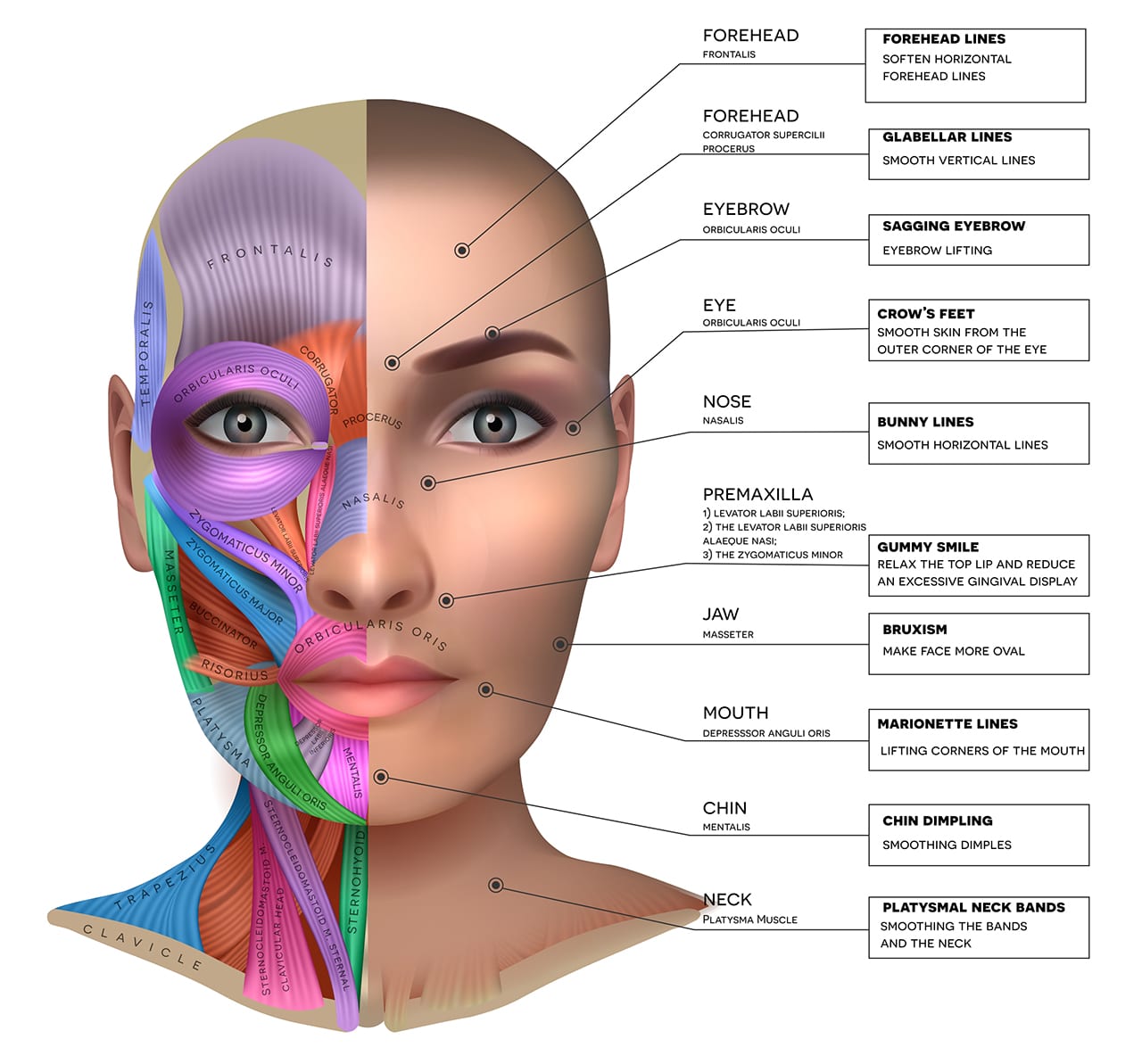 BOTOX and Dysport have been proven safe and effective for treatment of a wide variety of patient and wrinkle types, however, the earlier the treatment is started, the more favorable the results can be. Some patients are not candidates for this type of treatment and include those who are prone to keloidal scarring, those diagnosed with disorders affecting muscle movement, history of allergy to the botulinum toxin product, or those with unrealistic expectations from the treatment.
A note about static vs dynamic wrinkles. early on in wrinkle development, they can be seen only when the face is moving – these are called dynamic and typically affect younger patients. With continued facial expression over the years, these dynamic wrinkles can become static, or are always present, even when the face is not moving. Static wrinkles can be treated with BOTOX or Dysport but can take longer to be effectively treated, which is why earlier intervention during this process produces more effective results and prevention or prolongation of wrinkle development in the first place. For some patients with static wrinkles, optimal results can be achieved by adding a dermal filler to enhance the results of neuromodulators.